Wow oh wow!!!! Who can believe that the month of July has flown by!! I have done so many crazy amazing things this summer, and can't wait for the next couple months of summer. I read more books than I planned this month and that also makes me really happy. Below you will find the books I read, in order from most to least favorite. Or as much as I can do that anyways (I read some great ones this month). The best part is, almost all these books have officially been published – some of these this month! Without further ado…
---
1. The Widow's Watcher by Eliza Maxwell
I cried and laughed and cried again. I never expected to fall so deeply in love with the characters and with such a broken individual. It was a book about healing, and it healed me a little in the process. If you are looking for a tearjerker to cool you down and break your heart a little this summer, this is absolutely it!
---
2. Implanted by Lauren C. Teffeau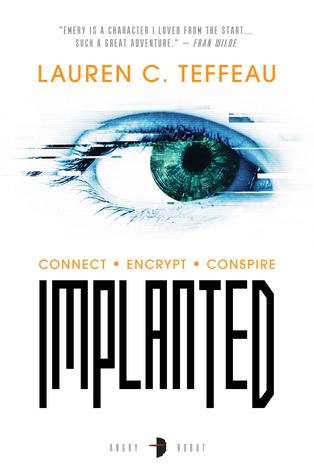 I loved this book for the creativity of the author in this new world. There are dystopias and then there is the city of New Worth. A domed city, a secret organization of spy like data couriers, and tinkering with blood and DNA? COUNT ME IN… (you should also count yourself in at this point… and if you don't, then get the book, read it, and then tell me that I was correct. I love saying I told you so).
---
3. Grace and Fury by Tracy Banghart
Ah – you can totally. freak out now. This is the new Hunger Games (in my humble opinion anyways). Its also super empowering, and because -spoiler alert- women aren't allowed to read, you can totally cheer for the main characters. I can't imagine a bookstagrammer that wouldn't feel for the sisters that are banned from reading!
---
4. The Griffin's Feather (Dragon Rider #2) by Cornelia Funke 
Alright, before y'all dock me points for putting a middle grade book so high up, lets just take a moment to appreciate the fact that Harry Potter is also technically a middle grade book. I don't believe genres or age recommendations should stop someone from loving a book. Especially if dragons and all sorts of fantastic beings are in it. Basically, I'm currently applying to be a dragon rider. No shame!
---
5. Tooth and Nail: The Making of a Female Fight Doctor by Linda D. Dahl
Considering, I read like five memoirs in the month of June and loved almost all of them, July was a sad month in memoirs for me. At least I didn't totally hate this one. It was just a little bit too braggy for me at times. Might be your jam, though.
---
6. Move Fast and Break Things: How Facebook, Google, and Amazon Cornered Culture and Undermined Democracy by Jonathan Taplin 
I took foreveerrrrr reading this one. Like more than a week, no joke. Which is insane for me when I am on summer break. But after getting through the yawn inducing history of tech (lol please please don't hate me for saying that) I actually learned a thing or two about social media and technology. Basically, not a complete waste of a week. I still don't get all the hype for it though.
---
7. A Normal Life: A Memoir by Kim Rich
The book itself is very picturesque which is awesome when you're a bookstagrammer… but the memoir itself just felt a little blah. Okay, very blah. Basically, you can ask your grandmother to tell you her life story and you would get the same thing.
---
8. Book of Hats by Dov Zeller
If you want representation, this book is great at that. However, I would also only suggest this if you're looking to read a book with a character that basically wallows through life. I felt physically sick at some points with the way Ida would get super depressed and cooped up and wouldn't want to come out. Definitely not a read I enjoyed.
---
Anyways, I have managed to finish 8 whole books (possibly 9 by the end of the day – I'm about half way through The Devil Wears Prada and have a couple hours of reading time allotted) and I am so stoked. I have found lots of new books throughout this journey and this month alone led me to some new favorites. I really hope you give some of these books a try next month and let me know how they go for you. I'd love to chat.
And as always, see you in August!